Ghania Habbi is a huge almonds fan. She loves them so much that she can include them in all her meals.
One day, Ghania needed a snack, and guess what she went with? The famous almond finger from Layla's Delicacies. Her feedback? It was "...so delicious!" 
"I got the goodies, almond fingers. So delicious, I'm a big fan of almonds anywhere. And they didn't disappoint... delicious."

— Ghania Habbi, Dumont U.S. 
Who says being a vegan is boring? Definitely not us. 
In fact, we believe vegans connect with the world better. You get to explore a range of flavors while searching for foods that suit your meal plan. You'll discover new fruits, nuts and plants that the earth sprouts forth. You'll also discover various ways to include them in your dishes, enjoying multiple sensations from every ingredient.  
At Layla's Delicacies, we help you explore better. Our treats have their origin in Mediterranean stories and tradition, connecting people to their roots. We know what it's like to be away from home, so we've brought home to you. 
Now it doesn't matter that you stay in the U.S.—you can still maintain family traditions with our snacks!
Even if you're not Mediterranean, your taste buds get to feel a new culture. 
Who says you can only travel through motion? Why not travel home—or to a new culture—with our local vegan snacks? 
Table of Contents
The Famous Almond Finger
Don't Miss These Pistachio-Based Vegan Treats
Get These Vegan Treats and More in One Box
Made With Love
The Famous Almond Finger

ALMOND FINGER
As a vegan, one of your favorite chewables must be nuts. A handful is almost always by your side. Ready to go into your mouth when you're watching a movie, reading books, or even working. But did you know there are more delightful ways to enjoy nuts?
We've taken almonds and hazelnuts, ground and cooked them with maple syrup, then wrapped them into a thin brik sheet. How enticing does that sound? 
Almond finger, also referred to as "almond cigars," is a Moroccan-rooted recipe that has lived with Tunisians for centuries.
Originally, its filling was of various types. Some families prefer to fill their cigars with animal-based ingredients like ground beef, while others are filled with seafood. For you, though, we've made them plant-based. Free from animal products, yet absolutely nutritious.
Ingredient
A Few Health Benefits
Almonds

Contains monounsaturated fat. According to the National Health Service U.K., this type of fat regulates HDL and LDL cholesterol in the blood
Good snack for diet plans, as it poses little risk of weight gain
Great source of L-Carnitine and other nutrients that boost brain function
High in fiber

Hazelnuts

Rich in antioxidants
Lowers blood cholesterol
Poses little risk of weight gain
Aids bowel movement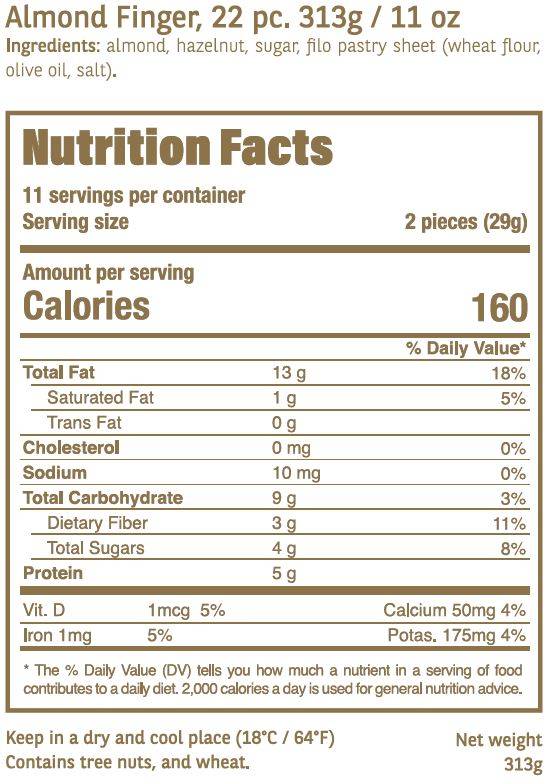 The ingredients in almond fingers also represent Tunisian history. A publication by the International Center for Advanced Mediterranean Agronomic Studies (CIHEAM) says that:
"Presently, the most important nuts in Tunisia are almonds and pistachios...indeed, nut consumption in Tunisia, especially almonds, has always been part of a Mediterranean traditional lifestyle."

— CIHEAM
Almonds are not just famous in Tunisia, but among the Berbers of North Africa. It all began with the Moors. They introduced almonds and other rich cuisine to their sister lands while migrating.  
The brik sheet used as the outer wrap is also an ancient recipe. Some people know it as malsouka. It's a thin layer of pastry cooked delicately on low heat. It is more commonly used to prepare brik a l'eouf, a non-vegetarian dish made of onions, parsley, eggs and tuna, all wrapped in the malsouka. 

ALMOND FINGER
You definitely won't want to miss out on almond fingers when looking for vegan treats. Tunisians devour them for breakfast, along with traditional mint tea or Turkish coffee. 
Now your mouth is watering, and you're wondering where to find almond fingers. Don't think too hard; treats like these are our specialty.
Don't Miss These Pistachio-Based Vegan Treats
Pistachios are also a part of Tunisian culture and are one of the most important crops in Tunisian fruit tree production. 
We seek to preserve history by blending these nuts into most of our snacks.
Just like other nuts, pistachios are highly beneficial for the human body. Here are some health benefits:
Pistachios are high in fiber. This means a small portion fills up the stomach and reduces incessant hunger. And you know what less hunger means—less sneaky snacks. And the end result? Less weight gain
Pistachios contain all nine amino acids that the body needs
Regulates systolic blood pressure
Aids better vision
Prevents hair loss
Facilitates digestion
The Bjewia Pistachio
The Bjewia gives an earthy taste with its dried rose petal toppings. Fresh or dried, rose petals are fast becoming a culinary favorite because: 
They are highly flavored 
They accentuate other ingredients in a dish
Rose petals are high in Vitamin C
Their scent is appealing.
Other ingredients in Bjewia are sugar and roasted or ground almonds. It is 100% free from flour, dough and gluten, and it is neither baked nor fried.
Since oranges are a major part of Tunisian exports, we preserve the story in our Bjewia recipe by making a citrus-flavored syrup as its base.
Tunisians use Bjewia for major celebrations, including iftar. It's a taste of nuts, festivals, flavor, and home.  
The Samsa Pistachio 
Just like almond fingers, Samsa pistachio is a crispy blend of hazelnuts and almonds, wrapped in a thin brik. Here are the major differences between both snacks: 
| | |
| --- | --- |
| Almond Fingers | Samsa Pistachios |
| Shaped like cigars | Triangle-shaped, like a samosa |
| No sprinkles | Sprinkled with ground pistachios |
| Maple syrup base | Sugar syrup and orange blossom water serves as its base |
Like most Tunisian delicacies, the recipe for Samsa pistachio may vary in different families. For instance, some families add other animal-based products to Samsa's filling or brik.
This snack is popular in North Africa, though it's often reserved for special occasions. In fact, there is a popular joke that if someone offers their visitor a Samsa on a regular day, they must really like that visitor. That's how good the Samsa is!
You can order these pistachio delights from Layla's Delicacies. We care about appearance as much as we care about taste, so ours comes in beautiful boxes of either 22 bite sizes or 10 bite sizes per box. Even though we box the snacks, each piece has its own wrapping. 
"I finally tried these delectable little bites of phyllo and almond. They are addictively delicious with the perfect delicate crunch. They come individually wrapped so you can order them in bulk and readily share a handful with friends or family, by placing them in one of your numerous boxes you have from all the other Layla's treats you have ordered previously!"

— Jacki F., Bethesda, U.S
Get More Vegan Treats in One Box

VEGAN BOX, 22 PC.
Can't choose? We understand. These snacks are too good to ignore. 
Our Vegan Box makes it easier for you by combining different vegan treats. Now you can have a taste of all! The 22 piece set contains these wonders: 
Bjewia Pistachio
Chopped almond and hazelnut roll, with pistachio topping
Baklava el bey, a pistachio and almond bite-sized snack, sprinkled with fragrant dried roses
Almond finger
Vegan roll, made with almond and pistachio
We also have the limited edition 30-piece box which contains extra delights like phyllo dough and a hazelnut-coated biscuit.
"My brother bought me the four tier regular baklava for my birthday! I enjoyed them so much, but I'm vegan. Made the exception and ate them all. Just tried the vegan ones and really couldn't tell the difference. Not to mention how pretty they all look. Truly a work of art."
Made With Love 
First, we draw. Then we mold. Then we pack and ship to you. At Layla's Delicacies, it's not just snacks—it's culture, art, and health. 
From start to finish, each snack is delicately and neatly treated by our artisans. The culture displayed by the French people when they lived among Tunisians inspires the way we refine our snacks.
The best part is, you don't need to move an inch to get all these. Simply flex your muscles with a few mobile clicks and within one business day, we'll present an edible story in a box. 
Ghania loved almonds, and she wasn't disappointed with what we made. Which nature's delights do you love?.