In every country around the world, people celebrate special occasions based on tradition and their cultural history. Although cultures and celebrations may vary, there are two activities that are common across every occasion: eating and gift-giving.
While ordinary presents like clothing, mugs, and lamps are adequate, a gift that speaks love and brings joy to your loved ones is the one that will never be forgotten! Like a delicious, out-of-this-world, Mediterranean dessert.
At Layla's Delicacies, showing love through desserts is our specialty. We've got scrumptious treats for every occasion, from the big ones like Christmas or Easter to the simple intimate celebrations like a housewarming.
All of the desserts mentioned below are gluten-free and plant-based so you can enjoy them without packing on too many calories.
Celebrate Your Loved Ones With a Special Tunisian Dessert
Do you have a friend whose birthday is coming up? Perhaps a lover you'd like to woo. Or a parent you'd like to appreciate. Whatever the occasion, there's a gift box to show your love.
Bjewia Pistachio: Celebrate Birthdays in a Unique Way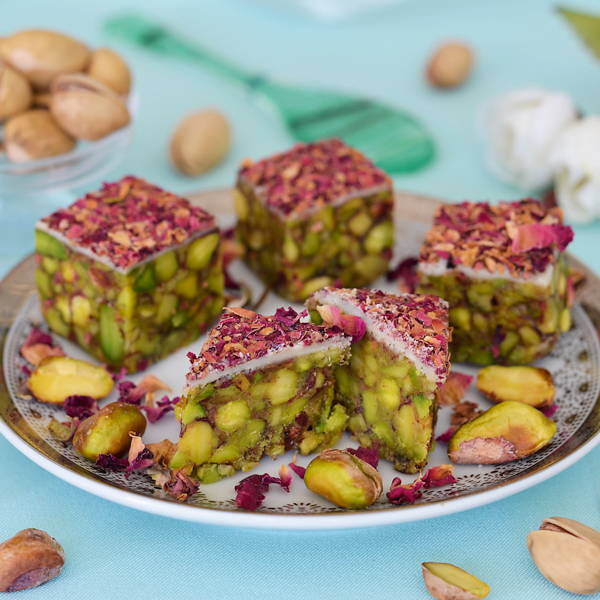 VEGAN BOX, 22 PC.
Birthdays are intimate and memorable. They mark a time of reflection for the year passed and the beginning of a new chapter. This is why every birthday should be commemorated uniquely
Nothing says, "Happy Birthday. I love you," better than Bjewia. This delectable Tunisian pastry is easy to make and has an all-vegan recipe with the following ingredients: 
Sugar
Citrus
Pistachios
Almonds
Dried Rose petals
Bjewia Pistachio offers a unique birthday experience. Unlike chocolates, they aren't too sweet and have much more nutrition thanks to their nut content. They also make for a fantastic birthday gift. We've even included it in each of our birthday gift packages.
Other delicacies in the box include:
Crunchy hazelnut with chocolate and berry
Almond and pistachio soft mix
Crunchy pistachio with white chocolate and lemon
Almond and hazelnut soft mix
All these treats contain natural plant-based ingredients and are well-balanced with lots of nuts (70%). In addition, we ensure they aren't too sweet so that you can enjoy their natural flavors.
On custom request, you can order a box of Bjewia separately.
Overall, this gift box is perfect for when you want to show appreciation. It's ideal for birthdays, holidays, and anniversaries.
Mark Diwali Celebrations With a Box of Rochers
Diwali, also known as the Festival of Lights, is undeniably one of the most beautiful holidays celebrated around the world with lots of love, lights, and delicious treats. Rochers are among the most popular treats for this occasion.
These little lovely oval delicacies are made from a blend of crushed biscuits coated with crunchy hazelnut. This makes their general appearance and texture rough and nutty. Chocolate is also added for its modest bitter taste which enriches the flavors.
You can enjoy vegan Rochers by ordering a custom box or our Diwali Gift Box package where it's included. The gift box is packed full of treats prepared with an artistic eye.
"This was bought as a Diwali gift instead of the traditional Indian sweets box and was a super hit! My uncle asked me to order two more the next day!"
Rajeev Bhaman
Rochers also have a rich nut content of hazelnuts and almonds, making them an excellent healthy option. These nuts are rich in fiber, antioxidants, vitamins, minerals, and protein, and have the following health benefits:
They lower cholesterol and reduce the risk of heart disease
They reduce inflammation 
Fiber improves digestion 
Antioxidants found in nuts reduce cell damage
When celebrating Diwali, give your loved ones healthy gifts as a way to let them know that you truly care for them. What better way to show genuine care than to prioritize their health?
Say Congratulations With Baklava Pistachio

BAKLAVA PISTACHIO
The Baklava Pistachio in our Vegan Limited Edition box is considered the poster child for Tunisian treats. It's been used for a long time in traditional and religious ceremonies such as Ramadan and Diwali.
In addition, it's one of the most delicious pastries around. It's got a simple recipe and all-vegan ingredients which include:
Filo dough
Olive oil
Orange blossom water
Rosewater
Pistachios
You can enjoy Baklava Pistachio when you order our Vegan Limited Edition box. The box contains various Mediterranean and Tunisian sweets packed with modern twists that are ideal for congratulatory occasions like graduations, weddings, and anniversaries. 
Apart from Baklava Pistachio, the package also contains:
A crunchy mixture of almond and pistachio
Irresistibly soft almond and pistachio layers
Delicious crushed almond
Almond and hazelnut finished with a hint of pistachio
Why not buy some Samsa Pistachio alongside this gift box to make this dessert experience even more delightful?
These vegan triangle-shaped gems have a crispy outer layer made from thin filo sheets and a moist filling made from a mixture of crunchy hazelnuts and almonds. Pistachios are then sprinkled overtop for layers upon layers of crunchy decadence.
Almond Fingers for Game Nights With Friends 

ALMOND FINGER
This originally Moroccan treat is the perfect vegan snack—especially for game nights with friends. It's a mouth-watering mix of hazelnuts and almonds rolled delicately into a brik filo sheet. This wonderful choice comes in:
10 piece box
24 piece box
While Almond Fingers are traditionally a morning pastry, you can pair them with coffee no matter what time of day.
Here's what Jacki had to say about these treats:
"I finally tried these delectable little bites of Filo and almond. They are addictively delicious with the perfect delicate crunch. They come individually wrapped so you can order them in bulk and readily share a handful with friends or family, by placing them in one of your numerous boxes you have from all the other Layla's treats you have ordered previously!"
We couldn't agree more with how amazing these are when bought in addition to one of our vegan boxes. The individual wrapping ensures they last no matter how many you order, so not only are they good for every occasion, you can put them away and bring them out for future occasions, too. 

ALMOND FINGER
As if that weren't enough, these almond fingers make a wonderful display when you have guests over for game nights.
Imagine walking into a friend's house and seeing these scrumptious snacks waiting for you on the table. A sight like that alone guarantees the occasion will be a special one. Pick your Almond Fingers up today.
Vegan Packages for Every Occasion
Say "I Love You" With the Vegan Gift Box

VEGAN BOX, 22 PC.
It's Valentine's Day and you're looking for a unique gift for your lover. A delicious gift to go along with the bouquet. Look no further than Layla's Delicacies Vegan Gift Box.
Each treat in this gift box is vegan (all non-animal products) and gluten-free. They're low in calories, fat, and sugar while remaining scrumptiously good. The gift box contains:
Chopped hazelnut and almond finished off with pistachio making the treat to have a fine nutty harmony.
Pistachio and almond bites topped with the fragrant dried roses to make them heavenly 
Hazelnut and almond mixed to perfection, then rolled into fine pastry
A vegan roll spin-off made with a pistachio and almond blend
Every treat in the Vegan Gift Box is made to be both nutty and floral to maintain the authenticity of the Mediterranean recipes.
They also offer an authentic Tunisian cuisine containing an assortment of treats that are beautifully presented in upscale packaging ideal for gifting.
The Vegan Box comes in a single size of 22 pieces. They're carefully packed and look delightful to make for the perfect unforgettable gift. 

Testimonial from Thomas Pileggi
To keep the sweets fresh, plastic-wrap the box and refrigerate for up to four weeks, or eat within one week without refrigeration.
If you want to make your partner feel special this Valentine's Day, the Vegan Box is an excellent choice. It's also great for wedding anniversaries, Ramadan, or as a thank you gift.
Vegan Limited Edition for Housewarming 

VEGAN LIMITED EDITION, 30 PC.
This premium gift box contains 30 delicious bite-sized treats which are vegan-friendly. They're handcrafted by the best artisans using the highest quality nuts such as hazelnuts, pistachios, and almonds.
Furthermore, the huge variety of pastries and sweets will fit any occasion from housewarmings and graduations to traditional ceremonies like Iftar and Diwali.
"I've never had Tunisian pastries before and thought I'd give it a go. They're really lovely. I like that they're not overly sweet and I love that they're mostly nut-based. They're rather fresh too. Delivery was super fast! Thanks for a great experience!"
Bibi Haniff 
Make Your Gift Unforgettable by Personalizing It
You can make your gift stand out by adding a personal touch. You can include:
Sleeves or ribbons with your logo
A custom special message to the recipient
The color scheme of your choice, or even get a custom rigid box, made in an incredible turnaround time
Apart from that, we also offer corporate gifting for large orders.
Contact us for all custom orders, and we'll help you create a unique gift pack.