Ask a non-vegan, and they'll assume that their herbivore counterparts spend their days munching on celery, maybe with peanut butter or hummus if they're feeling wild. These six plant-based desserts are here to show you that vegan treats are just as sumptuous as non-vegan goodies, even without the dairy or eggs.
At Layla's Delicacies, we strive to prove this point. We provide interesting, healthy, and tasty options for people who avoid animal food sources.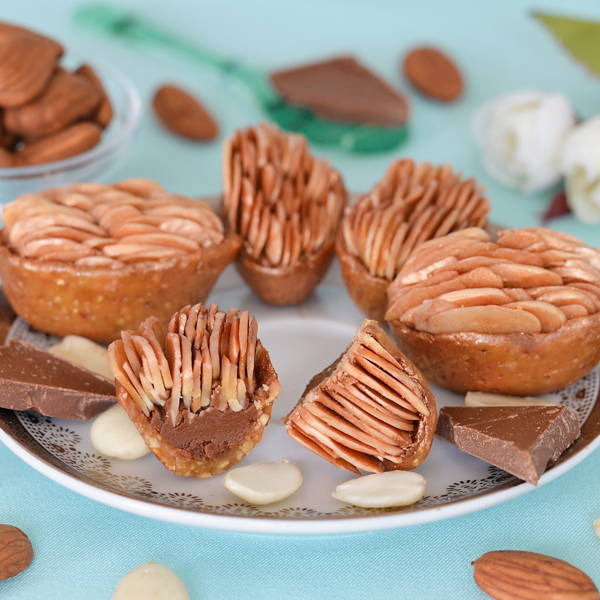 ESCAPE BOX, 10 PC.
Here's what a satisfied customer had to say about our original almond finger recipe:
"I finally tried these delectable little bites of phyllo and almond. They are addictively delicious with the perfect delicate crunch. They come individually wrapped so you can order them in bulk and readily share a handful with friends or family, by placing them in one of your numerous boxes you have from all the other Layla's treats you have ordered previously!"
Jacki F.
However wonderful it might be to share expert-baked, exotic vegan treats with loved ones, there's a special charm that comes with inviting them into your kitchen. 
You'll get to show off your techniques and discuss your beliefs over a feast that nurtures the body and delights the senses.
Try these six vegan recipes that use healthy, natural ingredients, and keep your non-vegan friends coming back for more.
Table of Contents
Recipe 1 - No-Bake Cookie Dough Cups
These creamy bites are the epitome of deliciousness. They taste like raw cookie dough and creamy peanut butter, serving as the ideal treat for little ones and something just as exciting for adult palates.
| | |
| --- | --- |
| Ingredients | Quantities |
| Refined coconut oil | ½ cup |
| Rolled oats | 1 ½ cup |
| Peanut butter | 1 cup |
| Maple syrup | ½ cup |
| Dark cocoa powder | ½ cup |
| Vanilla extract | 1 teaspoon |
| Pinch of salt | ½ teaspoon |
Method
Blend coconut oil, peanut butter, cocoa powder, vanilla extract, and salt until they're uniform and creamy. 
Stir in the rolled oats and pour the mixture into a muffin tray. 
Refrigerate while you make the topping with the remaining ingredients.
Stir together the rest of the peanut butter, coconut oil, and maple syrup for the cream. 
Pour it over your soft bites and refrigerate for another 20 minutes before serving.
Expert tip: If you're serving these at a party, cool them in mini molds to make cookie dough peanut butter bites.
Recipe 2 - Creamy Chocolate Pudding
Store-bought snack packs might be off-limits to vegans, but this rich chocolate pudding will make you forget all about them. This decadent dessert tastes like creamy chocolate, consists of real ingredients, and will warm you from the inside out on cozy afternoons.
| | |
| --- | --- |
| Ingredients | Quantities |
| Non-dairy milk | 1 ½ cups |
| Granulated sugar | ¼ cup |
| Cornstarch | 3 tablespoons |
| Cocoa powder | ¼ cup |
| Vegan chocolate chips | ½ cup |
| Vanilla extract | ¼ teaspoons |
Method
In a pot, whisk the dry ingredients together until you get a light brown, uniform powder. 
Once it has reached the desired consistency, slowly add in the milk, stirring the entire time to prevent lumps from forming.
Place the mixture on low heat until it starts bubbling. Once it does, start mixing, and be sure to scrape the edges of your pot to avoid sticking. 
Remove the pudding from the stove once it starts to thicken. Leave to cool before serving, adding cookie crumbs or red berries for garnish.
Expert Tip: This pudding is one for all seasons. If you're serving it in the heat of summer, leave it to refrigerate for a refreshing bite that will also nourish you.
Recipe 3 - Decadent Chocolate Cake
In its essence, this dessert is a lot like conventional chocolate cake, with a few vegan substitutes. Still, the pumpkin buttercream adds a twist to the chocolate classic, making for a unique treat.
| | |
| --- | --- |
| Ingredients | Quantities |
| All-purpose flour | 1 ¼ cups |
| Cocoa powder | ½ cup |
| Baking soda | 2 teaspoons |
| Salt | ½ teaspoon |
| Non-dairy milk of choice (we prefer almond) | 1 cup |
| Sugar | ¾ cup |
| Vegetable or coconut oil | ½ cup |
| Vanilla extract | 1 teaspoon |
| | |
| --- | --- |
| Ingredients for the Buttercream | Quantities |
| Pumpkin puree | 1 cup |
| Coconut powder | 1 cup |
| Maple syrup | 2 tablespoons |
| Nut butter of choice (again, almond works best) | ½ cup |
Method
Combine the dry cake ingredients in one bowl and milk, sugar, oil, and vanilla in another. Slowly add the wet ingredients to the flour mixture to get a smooth, consistent texture.
Bake the cake in however many slabs you wish for 25 minutes and leave it to cool completely. Meanwhile, you'll prepare the cream. 
It's as simple as mixing all of the ingredients in a food processor or using a mixer to blend them. 
Once the base is cool, pour the buttercream on top and make your cake as tall or creamy as you wish.
Expert tip: This recipe contains a nifty little trick to use for all vegan baking. Don't be afraid to add extra milk. No eggs are necessary to bake a fluffy, moist cake with the right amount of wet ingredients.
Recipe 4 - Chocolate Chip Cookies 
These chewy cookies are so good that you'll never crave an unhealthy refined sugar packed cookie again. Serve this one to your kids after lunch, and don't forget a cup of vegan milk for dunking.
| | |
| --- | --- |
| Ingredients | Quantities |
| Solid coconut oil (chilled) | ½ cup |
| Brown sugar | 1 cup |
| Vanilla extract | 2 teaspoons |
| Coconut milk | ½ cup |
| Unsweetened applesauce | ½ cup |
| Whole wheat flour | 2 cups |
| Salt | ½ teaspoon |
| Baking soda | 1 teaspoon |
| Vegan chocolate chips | 2 cups |
Method
Whisk together sugar, vanilla, and coconut oil until they form a thick paste. 
Add the applesauce and coconut milk, and stir until the mixture is liquid and free of lumps.
Combine the flour, salt, and baking soda into the same bowl until you get a consistent texture without dry patches. 
Blend in the chocolate chips, making sure they're evenly dispersed throughout the cookie dough. 
Form dough balls and lay them on your pan. Bake for around 10 minutes—less if you like soft cookies—and transfer to a cooling rack.
Expert Tip: Instead of chocolate chips, you can add bits of fruit, cinnamon, and lemon zest or blend in peanut butter. Bam, one recipe is now at least three different treats.
Recipe 5 - Sweet Potato Fudge Brownies
These nutrient-rich brownies are gluten-free, vegan, and delightful. Ideal for both kids and adults, they pack quite a nutritious punch without losing any of the delectability of more traditional brownie recipes.
| | |
| --- | --- |
| Ingredients | Quantities |
| Sweet potato | 1 (large) |
| Almond butter | ½ cup |
| Maple syrup | ⅔ cup |
| Vanilla extract | 1 teaspoon |
| Avocado oil | 1 ½ tablespoons |
| Cocoa powder | ¼ cup |
| Oat flour | ⅔ cup |
| Baking powder | 1 teaspoon |
| Sea salt | ½ teaspoons |
| Pecans | ½ cup, chopped |
| Chocolate chips | ½ cup |
Method
Peel and mash a baked sweet potato into a bowl and chill. 
Blend the chilled potato puree with maple syrup, almond butter, vanilla extract, and avocado oil until it's creamy. 
Add the oat flour, cocoa powder, baking powder, and sea salt and stir. This will be your brownie base, which you can then combine with chocolate chips and pecans for extra crunch. 
Pour the mixture into an oiled pan. Bake until the brownies are soft, and leave to cool before serving.
Expert tip: You can make these brownies even more delicious with a topping of melted dark chocolate, maple syrup, and vanilla. The dripping chocolate takes things to cocoa heaven.
Recipe 6 - Creamy Cashew-Cranberry Cheesecake
"No way," we hear you thinking. You can use alternatives for many traditional ingredients, but a cheesecake with no dairy can't taste like the real deal! It might not, but it's just as sweet and creamy, thanks to the power of cashews.
| | |
| --- | --- |
| Ingredients | Quantities |
| Rolled oats | ⅔ cup |
| Coconut flakes | ⅓ cup |
| Almonds | ¾ cup |
| Maple syrup | ⅔ cup |
| Salt | ¼ teaspoon |
| Almond butter | 1 cup |
| Refined coconut oil | 4 tablespoons |
| Coconut milk | 4 tablespoons |
| Granulated sugar | ¼ cup |
| Vanilla extract | 1 teaspoon |
| Cashew nuts | 1 cups |
| Vegan cream cheese | 8 ounces |
| Raspberries (fresh or frozen) | 3 cups |
Method
Use a food processor to pulse almonds, rolled oats, and coconut flakes into a crumbly texture for the crust. 
Add the maple syrup, almond butter, and salt and press into a pan covered with coconut oil.
For the creamy layer, you'll blend the coconut milk and sugar until the sugar is dissolved.
 Once it has cooled, blend in the soaked cashews, coconut oil, vegan cream cheese, and vanilla. Chill this mixture in the freezer for several hours.
Simmer raspberries and sugar to make a simple but delectable topping. Allow this to cool as well.
Pour the chilled cream over the crust and cover with the cooled raspberry and sugar mixture. Refrigerate until firm and serve.
Expert tip: Your friends won't even know they're not eating cheese if you put in the patience to soak your cashews. If you're in too much of a rush for overnight soaking, give them at least two hours in boiling water.
Best Vegan Sweet Treat Ingredients
Vegan baking can be as straightforward as replacing regular milk with oat milk and using non-dairy chocolate chips instead of milk chocolate ones.

VEGAN BOX, 22 PC.
That's one way to do it, but you're already cooking up a storm! Why not take things to the next level by using these nutritious ingredients for your next kitchen experiment?
Banana
Ideal for ice cream and baked goods
Chickpeas
Excellent for baking dough
Apple sauce
Egg replacement
Nut butter
Butter replacement
Dates
Sweetener in raw desserts
Who Said That Vegan Means Boring?
How can you ever assume that vegan treats are anything but amazing? These desserts are as rich and creamy as the non-vegan originals, and many introduce a special twist that helps them stand out from the crowd. 
Remember these hallmarks of vegan baking:
With enough liquid ingredients, a lack of eggs is no longer an issue.
Fruits and veggies add texture, sweetness, and a vitamin punch.
Don't avoid store-bought replacements at all costs. Some recipes need chocolate chips and cream cheese, and that's okay.
Experiment once you have the basics down and have fun.
These six ideas deliver guilt-free, nutritious, and delicious sweets that'll have you reaching for a second serving.
Try your hand at these recipes and taste our original delicacies. Forget about store-bought dark chocolate as your only source of after-lunch sweetness. It's time to indulge!