There are but a few tasks you should never have to do in a last-minute rush:
Important meetings. 
Catching flights. 
Doctor's appointments. 
Looking for a physical shop that sells authentic Arabic pastry. 
Rushing from block to block looking for Arabic pastry only to end up empty-handed can ruin a special moment. That's why you should count on the convenience of an online Middle Eastern bakery.
5-star pastries and service!
"Missing our Tunisian patisserie in France, we found your shop online. Thanks to Layla's Delicacies, our teatime is tops. Delicious!!" - Janice-Marie (Indianapolis, US)
Layla's Delicacies is a family-owned bakery that specializes in hearty Middle Eastern pastries. We use Arabic influences to make mouth-watering bite-sized pastries and sweets.
We'll make sure your Ramadan, Eid al-Fitr, birthday, anniversary, or family reunion starts and ends on a sweet note. These events take time to plan and pull off successfully. You don't have to stretch yourself thin to get the perfect pastry.
Here are some reasons why you should order Arabic pastry online from Layla's Delicacies.
Fresh Delivery in One Day? It's Possible
Say you make your plans for an event, but a day before, it hits you that your guest list has more people than you expected. Where does that leave you?
We have your back.
Layla's Delicacies receives your order online and delivers at the earliest convenience. Some deliveries may even take one day if you're in New Jersey. What's better? It'll be fresh. You can soak up the scents of a freshly baked dessert without going through the baking process.
Gift well-received
"Sent an Appreciation box as a gift. Arrived in timely fashion. My friend told me the treats were boxed beautifully and delicious. Said "almost too pretty to eat." I had brief email contact with customer service and my question was answered promptly. Will definitely order from Layla's again." - Jeri Papuga (Lenoir, US)
The delivery is flawless. We make sure the packaging is properly secured so your order can arrive safely and still be appetizing.
Speaking of shipping...
US Deliveries? We'll Cover You
If you've got a hankering for a box of gourmet Mediterranean pastry and you are in the US, you're in the right place. You'll get your fix in about two to four business days when you order online from Layla's Delicacies.

Source: Unsplash
We'll use the most convenient couriers to deliver your baklava order. You'll get a tracking number that keeps you updated with your package's location and expected delivery time.
Our shipping policy remains the same whether you are in Dearborn, MI — home to the largest Arab population in the US — or the west coast:
Whether you're sending a family-sized box of the finest Tunisian baklava or Tunisian-influenced Bjewia Pistachio, we guarantee that we'll deliver the order to its rightful destination. 
Special Person? Special Packaging
We care not only about what is inside the package. The packaging matters too. 
We made all our packaging to give the recipient a visual treat before they even slip one of our crunchy baked delights into their mouth. 
Give us the detail you'd like on the package, and we'll work our magic from our end. 
Looking to make an impression? It starts from the packaging. We have a range of customization options that you can request when you order. You can even choose the sleeve before checkout.

Vegan Box, 22 pc
Everyone Loves A Good Deal
The best part about delicious and authentic Mediterranean sweets and pastries is that you will want to share. But you can't share if there isn't much to go around, right?
We often run promotions where you can get discounts for more pastry. We send information about upcoming offers to our subscribers when they sign up.
What's more, you know how shipping can be such a drag? It'll be free if your online order totals at least $84. Your package will be on its way, full of some of the tastiest pastries you can get. 
Self-Select an Assortment of Middle Eastern Pastries
The Middle East is a culturally rich area with some of the most exciting cuisines you will ever taste. The ingredients you find in Middle Eastern sweets and desserts are unique.

Quarterly Limited Edition
Pastry masters blend ingredients such as rose water, pistachio nuts, honey, and lemon to develop gourmet treats you will not get in many places.
Typically, you would have to look for bakeries and restaurants that offer this kind of experience. However, with our delivery options, you don't need to jump through hoops to get delicious Arabic pastry.
Other than the house originals, you can have some of our hidden gems. Take a look at these offerings. 
The 23-pc. Middle Eastern Sweets Box
When you picture sweets, you don't think of pistachio nuts and dried rose petals. Yet, these two ingredients in a skilled baker's hands make part of a delightful arrangement of healthy sweets. 

Appreciation Box, 23 pc.
These decadent Tunisian sweets have a modern approach to candy. Each sweet combination, such as the almond and caramelized chocolate boat, is a balance of flavor and texture that melts into your taste buds. 
Baklava Pistachio
Baklava has been one of the finest Middle Eastern and Mediterranean pastries for centuries. This rich snack features carefully crafted phyllo dough, nuts, honey, and citrus water blends to put your taste buds in a taste trance.
You're likely to find it in a Lebanese bakery, but Layla's Delicacies will have it delivered to you in an instant.
If you're looking for an introduction to Arabic gourmet pastry, this should be a great sensory start.

Baklava Pistachio
"Love the Tunisian-style baklava from Layla's! Filled with almond, it is deliciously sweet and fulfilling. I especially love the design and attention to detail, superb". - Gorica Majstorovic (Collingswood, US)
The Vegan Box
Everyone deserves a hearty treat. If you're all about a vegan lifestyle, we have the right treat for you too. The Vegan Box is a colorful arrangement of beloved Tunisian delicacies that feature Arabic ingredients such as Orange Blossom water. 

Vegan Box, 22 pc.
We make each pastry in the box with a blend of non-animal products, making them completely Halal.
The Vegan Box's pastry pays attention to detail. The final presentation is an unmatched healthy approach to snacks, from the layering to the colors to the balance of sugar and various nuts.
Yum!
"I've never had Tunisian pastries before and thought I'd give it a go. They're really lovely. I like that they're not overly sweet and I love that they're mostly nut based. They're rather fresh too. Delivery was super fast! Thanks for a great experience!" -  Bibi Haniff
You can order the Vegan Box online with other treats such as:
Makroudh
Mlabes 
Boules
Crunchy pistachio with white chocolate and lemon
Crunchy sesame shell with silky chocolate
Order Up!
With pastry, you never know what to expect. However, when you order online from Layla's Delicacies, you open a portal into Arabic-style baking and confectionery. There is so much more for you and your loved ones to try.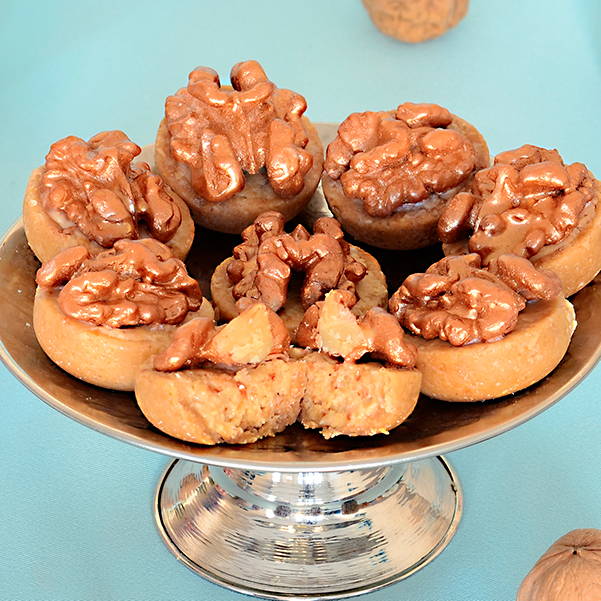 Escape Tower, 20 PC.
The recipes have exchanged hands across generations. They've changed over time to bring a modern twist to old-world charm.
Explore all the Layla's Delicacies options online and pick a treat for the next birthday, wedding reception, religious ceremony, or personal celebration. You can also order online when you're looking for a personalized welcome or farewell gift.
Great services
"Great Quality!
Great Taste!
Great Presentation!

If you would like to "wow" someone. I recommend Layla's Delicacies !" - Ricardo Eustaquio (Union, US)