Wooing a lover is serious business. When picking out gifts, you need to show thoughtfulness and an element of surprise. That's why people often find it so difficult to choose the perfect gift. 
While the thought does count, being truly insightful about the gift you give your significant other makes all the difference. No one wants a pair of socks for whatever occasion.  
At Layla's delicacies, we provide you with creations that are romantic and decadent, made with Tunisian and Middle Eastern influences. 
We offer a range of sweet vegan treats that you can purchase individually or as an assortment. Our vegan line is popular thanks to its low sugar content and delicious flavor. 
We make sweet treats for every special occasion. They represent the festive spirit and are considered bonding dishes that the entire family can look forward to enjoying.
Our creations feature original recipes that have been slightly tweaked to remove animal products without losing their authenticity. Rosewater and rose petals add a romantic touch and floral tinge to the desserts, keeping the original flavors intact.
What's more, we produce bite-sized delicacies that are perfect for any dessert table. We package each treat with extra love and care to share our beloved Tunisian culture in the best way we can.
Are you dating a vegan? Finding desserts that will indulge her sweet tooth can be a challenge. These 6 vegan gifts are the perfect romantic gesture.
Table of Contents
Gift #1: Vegan Box, 22 pc
Gift #2: Vegan Limited Edition, 30 pc
Gift #3: Samsa Pistachio
Gift #4: Almond and Pistachio Topped With Dried Roses
Gift #5: Soft Mixture of Almond and Pistachio
Gift #6: Almond Fingers
Place Your Order Today!
Gift #1: Vegan Box, 22 pc

VEGAN BOX, 22 PC.
This 22 Piece Vegan Box is classy and artsy. Not only does the packaging look great, but it also comes with an array of vegan Mediterranean-inspired treats including the following.
Baklava El Bey
Bjewia 
Almond Rolls
Baklava with Rosewater 
This box is often ordered for anniversaries, birthdays, and weddings. While these delicacies are all vegan, you still get a variety of sweet treats with varied flavors.
Years of tradition are packed into each dessert. We combine Tunisian recipes and add some twists to bring an explosion of flavor and nutrition.
This boxful of goodies is one of the best things you can buy your girlfriend, wife, or significant other. They are great year-round and go well with just about any occasion.
Each individual treat is crafted using organically sourced ingredients, with years of rich culture prevailing in each recipe. Here's the nutritional information for each treat in the box. 
| | |
| --- | --- |
| Fat | 1 g |
| Protein | 8 g |
| Saturated fat | 2 g |
| Sugar | 3 g |
| Fiber | 8 g |
Are you wondering how to package your gift? With our boxes, there's no need for further wrapping. We've created a ready-to-go product that is beautifully packaged, and which can be customized based on the occasion. Add a card, and your gift is 100% presentable and ready for delivery.
This specific vegan box comes with a total of 22 pieces of dessert. Expect a combination of our most popular Baklava recipes, Bjewia, and Almond Rolls.
Gift #2: Vegan Limited Edition, 30 pc
Looking for that exceptional treat for your significant other? Our Vegan Limited Edition is the real deal.

VEGAN LIMITED EDITION, 30 PC.
This box packs a punch. Each treat is not only free of animal products, it is also delicious and light. The Vegan Limited Edition is a collection of our most delicate and intricate creations.
Each treat has a thin filo dough outer cover and a soft and chewy filling of almonds, pistachios and walnuts. Each creation is intricately curated to create the perfect balance of flavor. 
Some treats you can expect to find in our limited vegan edition include: 
Baklava El Bey 
Baklava Pistachio 
Bjewia Pistachio 
Almonds and hazelnuts topped with pistachios 
Gift #3: Samsa Pistachio

SAMSA PISTACHIO
Samsa Pistachio is a delicate bite that uses old techniqúes in a new way. This triangle-shaped snack is selective and perfectly healthy.
If your partner suffers a few health issues and cannot consume refined sugars, you're in luck. Samsa Pistachio are filled with nuts to keep them sweet without any refined sugar.
The beautiful nut combination makes this a hard gift to resist. You can order a box of Samsa Pistachio and even increase or reduce the number of treats per package.
Remember, the more the merrier—you'll want more when you've finished the first box. You can also include our Samsa Pistachio in any gift box of your choosing.
Some of the nuts we use in our Samsa Pistachio filling include:
Pistachios  
Walnuts
Almonds
We use almonds in celebration of the original Tunisian almond wraps recipe. The thin filo dough ensures a crispy outer layer topped with nutty flakes for a final bite that clients around the country cannot resist.
Check out some of their reviews of the Samsa Pistachio package. 

Customers' comments on Samasa Pistachio
This is another perfect vegan confection that you can buy to dazzle your significant other. Hints of citrus will leave anyone's mouth watering and asking for more.
Here is the nutrition information for our Samsa Pistachio bites; 
| | |
| --- | --- |
| Protein | 10 g |
| Fats | 5 g |
| Carbohydrates | 3 g |
| Fiber | 11 g |
Gift #4: Almond and Pistachio Topped With Dried Roses

VEGAN BOX, 22 PC.
Nothing says "I love you" like a bouquet of roses. Flowers are, however, the regular way of showing appreciation. Take it a notch higher this time around by considering these rose petal topped vegan treats.
Sweep her off her feet with these decadent, and glamorous goodies that are not just gorgeous to look at, but packed with healthy nuts too.
Our Almonds and Pistachios Topped with Dried Roses are inspired by Moroccan ingredients, making this treat the perfect way to treat her to exotic recipes.
The top layer of rose petals makes these yummy bites fragrant and adds a tinge of sweetness to each bite. This decadent dessert is filled with a moist filling of crushed pistachios and almonds. 
Some of the ingredients you will find in this item include:
Gift #5: Soft Mixture of Almond and Pistachio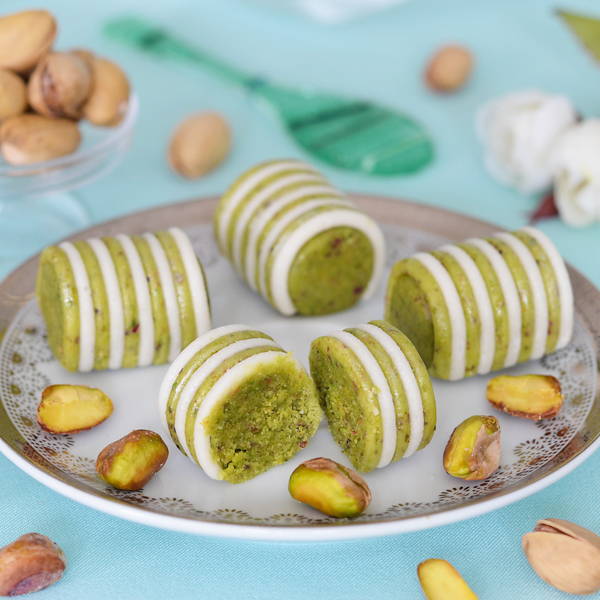 VEGAN BOX, 22 PC.
Our beautiful boxes of assorted treats are a real contender if you want a vegan gift for your significant other.
These gorgeous and delicate green and white rolls of almonds and pistachios are beloved and for good reason.
We source our almonds from the North African Berbers and pistachios from our Middle Eastern neighbors. This treat is vegan and can be found in our 22 Piece Vegan Box.
We use French and Italian cooking methods to complete these creations and add a touch of art to our creative production line. This is one of our most popular desserts, with many customers leaving glowing feedback after purchasing. 

Testimonials from satisfied customers
Expert Tip: You can enjoy this pack for up to a week by keeping the contents in a cool and dry area away from direct sunlight. Alternatively, you can freeze the treats for up to 4 weeks. Remember to thaw for up to an hour before serving.
If you're worried about shipping, we ship out all orders on the same day. We want each buyer to get their delivery in good time, while still fresh. 
"I ordered 2 boxes and it was so delicious! Definitely I'm going to order again"
Claudia Rivas
The ingredients you'll find in our assorted box include: 
Gift #6: Almond Fingers

ALMOND FINGER
Our vegan platter would not be complete without a mention of our infamous vegan Almond Fingers. Also known as almond cigars, these rolled bites are a favorite among our return buyers.
The process of creating an Almond Finger is rigorous and delicate. It all starts with paper-thin filo dough that is baked to perfection.
The filo sheet is baked enough to be crispy but not too much so that it breaks during rolling. We use vegan oil to soften the sheets allowing our mix of pistachios and almonds drenched in syrup to sit perfectly in place.
The fingers are baked for a short while to ensure the dough is not overcooked. They're then cooled and ready to serve. Almond Fingers can last up to one week without refrigeration.
Almond Fingers feature across Mediterranean cultures and Eastern cultures alike. Many variations exist, with only a handful being vegan.
Many recipes use butter to soften the filo dough. Our creations use vegan oil alternatives that do not mess with the quintessential flavor of the original almond fingers.
Here is a list of the ingredients in this pastry:
Filo pastry sheets 
Hazelnuts 
Almonds 
Sugar 
Oil
If your significant other is a coffee lover, this is the perfect vegan accompaniment to go with a cup. It's often made as a breakfast pastry that Tunisians enjoy on any occasion.
Place Your Order Today!
Are you ready to impress? All you need to do is place an order with us. Quality and freshness are guaranteed.
Vegan does not have to mean bland or tasteless. We value flavor and deliver sweetness without overwhelming other ingredients.
Buy your vegan gift box in our shop today, and wait for the stellar reviews on your great gift.