Layer upon layer of thin, buttery-crisp pastry envelops a colorful mix of crushed nuts, drenched in sweet honey —  a crunchy-sweet indulgence with every bite.
Baklava has won the hearts and minds of rulers, emperors, and commoners for centuries.
With a secret legacy carried across borders and seas by the Ottoman warriors in the 15th Century, the baked treat was reincarnated with every changing of hands, taking on the flavors and appearances of its many homes and delighting taste buds as it went.

Source: Pixabay
It's said that the recipe was truly perfected in the Topkapi Palace kitchens of Istanbul in the 17th Century.
When, during the Holy Month of Ramadan, the ruling Sultan demonstrated his appreciation for his soldiers by distributing pieces of the decadent, baked treat — an observance known today as The Baklava Parade.
Baklava has since remained a favorite during Ramadan, with families from all across the map exchanging gifts of the delicate pastries to break their fasts.
While Parisian Pâtisseries have long been romanticized for the aroma of sweet bread, fresh from the oven, or for the visions of silky ganache-laden pastries that they evoke, baklava bakeries are sanctuaries of purity and magic, where true artisans weave wonders of simplicity and sophistication.

Source: Pixabay
Layla's Delicacies invites you to witness the subtle magic and craftsmanship of Mediterranean desserts by taking you on a sensory journey through the culinary history of Tunisia, the tales of which are secreted away in every bite of our baklava.
The Secret Tunisian Ingredients of Baklava Bakeries
At Layla's Delicacies, we pride ourselves on staying true to our roots, the vast canopy of which stretch out imperceptibly, branching through time, crossing cultures, borders, and nationalities.
Every bite is a marriage of the best of what the Mediterranean has to offer, with each ingredient performing a delicate balancing act — retaining its flavors and yet, harmonizing with others to achieve a truly unique flavorful experience.

Source: Pixabay
Our signature recipes have been passed down for centuries, from one empire to the next, reflecting the vibrant, multicultural history of the land.
With stuffing techniques inherited from the Moors of Spain and a level of refinement owed to the influence of the French and the Italians, join us on a journey through the history of Tunisia, as we unravel the secret ingredients of Mediterranean and Lebanese confectionery cuisine.
Pistachio

Source: Pixabay
A remnant of the Middle East, pistachios are among the most widely used stuffings for baklava across the world. Salty, savory, and with a satisfying bite, our baklava contains only the finest pistachios to perfectly balance the sweetness and nuttiness.
Honey
 Delicious, delicate and sweet, honey is one of the major ingredients in Mediterranean sweets. A natural alternative to regular sugar and artificial sweeteners, honey acts both as a moistening addition to nutty fillings as well as lending a crispy bite to delicate baklava pastry.
Filo
Flaky, delicious, and buttery, filo pastry is made from unleavened flour dough, rolled into very thin sheets or leaves.
Each delicate layer is basted with butter or oil to form the flaky base and top crust of baklava or delicately folded and molded into baked pockets and a variety of other carefully constructed shapes that envelop and contain the delicious inner filling.
Almonds
Influenced by the Berbers of North Africa, our baklava adds a twist to the traditional by using the finest almonds, grounded and used as a base for our nutty filling.
Rosewater

Source: Pixabay
A common ingredient in Middle Eastern food and desserts, rosewater lends a subtle, floral aroma to our treats, highlighting the delicate flavors and bringing out the inherent sweetness of the nuts.
The Perfect Giftboxes for Ramadan
 With the Holy Month of Ramadan approaching, Layla's Delicacies is here with the perfect gift boxes for your friends, family, and colleagues this Eid Al Fitr.
We always keep our treats balanced and not too sweet by including more nuts than sugar so that you can enjoy more of the natural flavors while getting a good dose of fibers and protein. These boxes are perfect for showing appreciation at any gifting occasion. 
The Appreciation Box

Appreciation Box, 46 pc.
Containing an assortment of Tunisian pastries with a modern twist, our Appreciation Boxes come packed with a variety of unique culinary experiences like Bjewia Pistachio topped with dried rose petals or the Almond Boat filled with caramelized chocolate.
With four size options, ranging from a 9 piece box to a 46 piece box, our Appreciation Boxes have something for everyone. Order yours today!
The Escape Box

Escape Box, 10 PC.
Perfect for a culinary escape into the flavors and textures of Tunisia, our Escape Boxes come packed with a variety of modernized Tunisian fare, including crunchy walnuts paired with white chocolate and almond, and treats made with a crunchy sesame shell with a silky chocolate center.
Our Escape Boxes range from the personal 4 piece box to a 20 piece Escape Tower that is perfect for the whole family. Order yours today!
Vegan Box

Vegan Box, 22 pc
This Vegan Gift Box contains an assortment of sweets designed to suit the Vegan palette, with no cheese or dairy products.
With 22 pieces of authentic Tunisian sweets and a touch of the 21st Century, our Vegan Box is guaranteed to put a smile on the faces of your loved ones. Order yours today!
Discovery Box

Discovery Box, 4 PC
Not sure what to order from our Originals? For the undecided, this 4 piece sampler Discovery Box contains our Samsa Pistachio, Kaak Warka, Baklava Pistachio, and Almond Finger. We are sure that you will love them all!
Corporate Gifting
Looking for a way to show your employees and colleagues that you're thinking of them this Ramadan? Impress them with the ultimate gifting experience with our corporate gifting services, filled with little gems and luxurious details.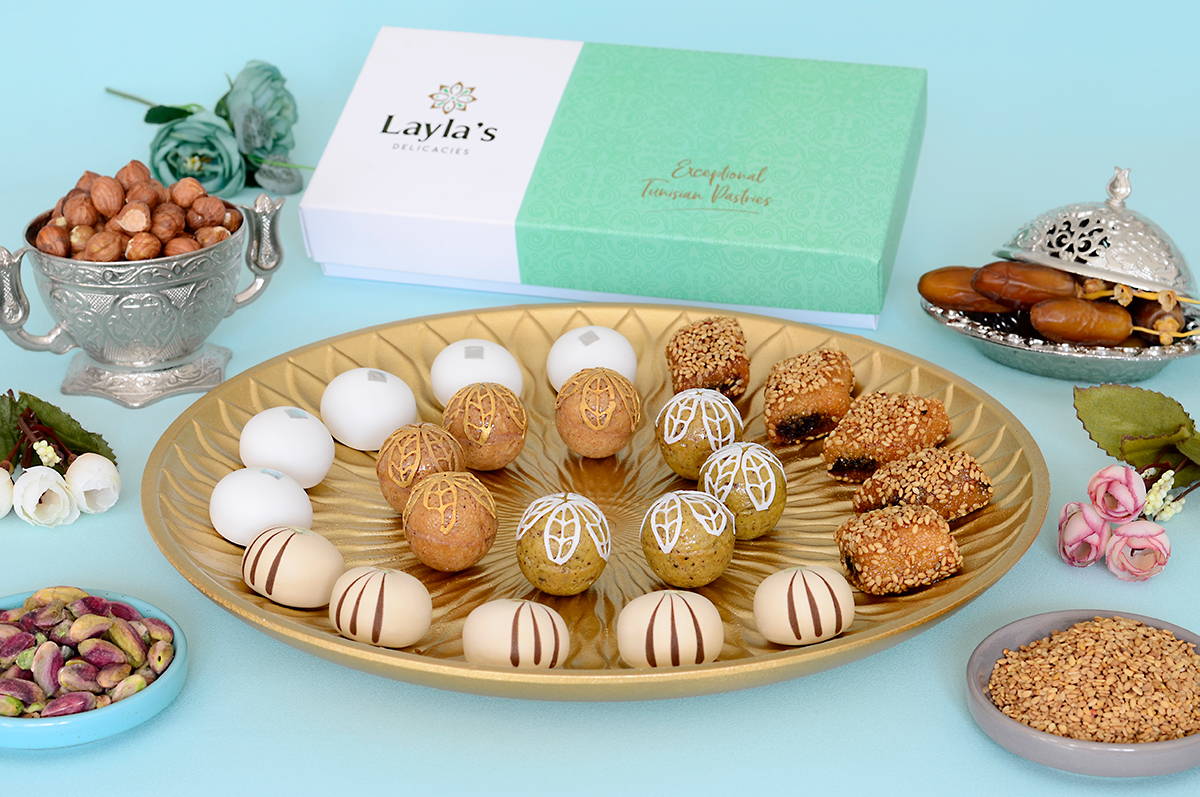 3 Easy Steps to Your Amazing Business Gifts
Personalize your Eid Al Fitr gift boxes with ribbons, a logo sleeve, or even a custom box made to suit your needs – all delivered to your doorstep in record time!
The best part? The whole process is complete in only 3 easy steps!
Step 1: Getting in Touch
 We have got a dedicated Corporate Development team to guide you through the process and make your experience seamless! Email or call us at (347) 719-2916 for more details.
Step 2: Personalize Your Gifts
 Our Corporate Specialists will be happy to assist you to create a unique gift perfectly in line with the image of your company. They will be sure you will make a long-lasting impression.
Step 3: Seamless Delivery
 20, 300, 1000 boxes to deliver? We've got your back. Just give us the list and sit tight for the thank you messages from the receivers.

Source: Pixabay
Layla's Delicacies takes the utmost care in packaging and shipping so that the treats arrive in beautiful condition. Orders are packed by our shipping specialists and include a frozen gel pack in warm weather and temperature control insulation to ensure outside conditions don't impact the shipment.
So, what are you waiting for? Place your orders today, and have a piece of Tunisia delivered directly to your doorstep!

Featured Image from:Pixabay by Baklava7_de