Sweet, scrumptious desserts have been used for a long time to show love and appreciation to our loved ones. From Valentine's Day to birthdays and anniversaries, desserts like chocolate and cake are almost always part of the celebration.
For the special man in your life, a unique gift goes a long way in celebrating his big day. Whether it's a birthday gift or a random gift to show appreciation, there's something for him at Layla's Delicacies.
All our desserts are plant based, and a select few are fully vegan. They're healthy and generally make for wonderful vegan gifts. So go on and ignite his senses with our delicious treats crafted from rich Mediterranean dessert recipes and traditions. 
Celebrate the Special Man in Your Life with our Original Treats
It's been known that the way to a man's heart is through his stomach. With our special vegan treats, you can show how much you love him by satiating his sweet tooth.
From original treats like Baklava Pistachio to our unique gift boxes, there's a savory dessert for every man out there.
Baklava Pistachio

BAKLAVA PISTACHIO
Baklava Pistachio is the cherry on top after enjoying platters of heavenly food. It's sweet, but not so sweet that it clashes with the salty taste of the meal you just had. This is due to the presence of pistachios and almond nuts.
Baklava is one of the most popular Mediterranean desserts, mainly due to its crowd-pleasing toothsome taste that can delight even the hardest person to shop for—the man who can't answer the question: "What do you want for the next holiday?"
Baklava pastry is a foster child of Mediterranean sweets. It originated from Turkey and made its way to Tunisia with the Ottomans. It's made with fine pistachios layered with a mix of ground almonds.
The top and bottom layers are made of crispy filo to give it a unique bite. The flavor balances the nuttiness and sweetness perfectly, which makes it the best pastry to share with your man.
Samsa Pistachio

SAMSA PISTACHIO
Looking for a dessert to compete with the Baklava Pistachios in your gift box, perhaps one that is chock full of nuts such as pistachios, hazelnuts, and almonds? Look no further than the gourmet Samsa Pistachio.
Samsa Pistachios are quite similar to Baklava Pistachios in preparation. They both contain pistachios and originate from North Africa. However, the main difference is their shape; Samsas are small and triangular while Baklavas are cubical.
When it comes to taste, Samsa Pistachios are to die for. These delicious little treats are packed with three different nuts—hazelnuts, almonds, and pistachios. The pistachios are ground and sprinkled on top to provide a delightful sensory experience, so pour a cup of mint tea or coffee and enjoy this lovely vegan treat.
Almond Fingers

ALMOND FINGER
Almond fingers are the perfect pastry to add to your gift box for the man that loves morning pastries. They're nutty, sweet, and pair well with a cup of coffee.
Almond fingers are made of a blend of almonds and pistachio nuts wrapped in crispy filo dough. The crunch of filo dough around the almond fingers complements the almonds and pistachio paste inside the pastry.
Besides giving these sweets a nutty flavor, the nuts have plenty of proteins and fiber to keep you feeling full. They're healthy, delicious, and make the perfect gift for the man who loves to indulge his sweet tooth after a serious workout.
Bjewia Pistachio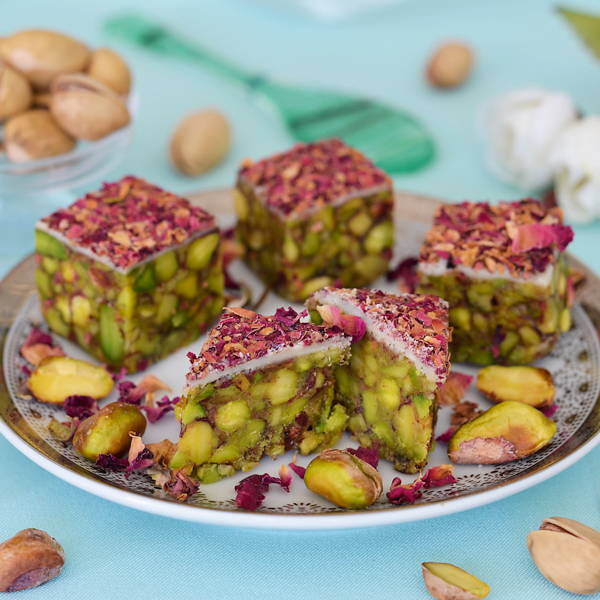 Almond and pistachio topped with dried roses
If you're looking for an authentic, delicious, and cruelty-free dessert for your man which comes from the jasmine-scented Mediterranean coast of Tunisia, Bjewia Pistachio is the pastry you're looking for. It's the heart and soul of Tunisian flavor.
Bjewia is a nutty and sweet vegan pastry with roots in the history of Tunisian culture. It's a gluten-free, delicate mixture of almonds and pistachios finished off with the sweet, earthy flavors of dried rose petals.
Furthermore, Bjewia—also referred to as Bjewiya—is made from authentic Tunisian ingredients influenced by the region's vibrant multicultural identity. The stuffing techniques are inherited from the Moors of Spain.
It has a touch of artistic refinement owed to French and Italian influence, and every bite of these signature treats is a medley of uniquely Tunisian flavors.
Whether the man in your life is celebrating his birthday, a job promotion, or you simply want to surprise him, you can't go wrong with Bjewia Pistachios.
Baklava El Bey
In Tunisian cuisine, the title 'Bey' is used to indicate finesse and elegance in a recipe, and the Baklava El Bey best embodies this. This snack is soft and melts nicely in the mouth. It's also nutty, sweet, and easy to make.
Like most of our vegan desserts, the Baklava El Bey is primarily made from pistachios and almonds. The pistachios are crushed and enclosed in almond paste. Other ingredients include wheat flour, olive oil, sugar, hazelnuts, orange blossom water, and salt.
Overall, this is one of the best treats for the special man in your life. It contains a healthy mix of nuts, which provide fiber and protein. It also has carbs, fat, and a delectable flavor that lingers in the mouth long after eating.
To enjoy the Baklava El Bey, simply order any of our vegan gift boxes where it's contained.
Gift Packages: Heartwarming Desserts He'll Love 
Vegan Box

VEGAN BOX, 22 PC.
Our Vegan Gift Box brims with natural goodness and vegan treats. In the box, you'll find a burst of nutty culinary brilliance with each bite. We use 70 percent nuts in each dessert recipe to ensure our treats are healthy with an abundance of fibers and proteins.
The man in your life deserves a hearty treat. If he's all about a vegan lifestyle, this is the right dessert for them. This gift box contains an assortment of sweets designed to suit the vegan palette with no animal products. It contains Baklava El Bey, Boule Pistachios, Rocher, Bjewia Pistachios, Yasmina, and Pineapple Hazelnut.
All these desserts are packed in an authentic, dairy-free, 22-piece vegan gift box that is guaranteed to put a smile on the faces of your loved ones. It has a colorful arrangement of Tunisian delicacies that features Arabic ingredients such as orange blossom water.
Pastries in the vegan box are packed with attention to detail. The final presentation displays an unmatched healthy approach to snacks, from layering to balancing sugar and various nuts.
Vegan Limited Edition

VEGAN LIMITED EDITION, 30 PC.
No matter the occasion, you can hardly go wrong with the Vegan Limited Edition box. It's a gift package that's been carefully curated for vegans to perfectly balance deliciousness and nutrition.
The Vegan Limited Edition box is slightly larger than our regular Vegan Box. It contains 30 pieces of lovely vegan snacks, making it the perfect gift package for birthdays, anniversaries, and even religious ceremonies such as Eid. 
In addition, the box contains a huge variety of treats, including:
A crunchy mixture of almond and pistachio
Soft layers of almond and pistachio
Filo dough layered with almond and pistachio
Crushed almond and biscuit coated with hazelnut
Almond and hazelnut topped with pistachio
Which Vegan Treats are Included in Gift Packages?
Gift packages contain an assortment of treats for those who want to single out one of these snacks to give to their men. The following snacks are completely vegan, sweet, and will have your man craving more.
Pineapple Hazelnut
The Pineapple Hazelnut is a favorite for several reasons: First, it's playfully shaped like a pineapple, which gives it a unique touch compared to other snacks. This shape is achieved by mixing chopped almonds and hazelnuts and topping it off with small pieces of pistachio.
The Pineapple Hazelnut is also packed with hazelnuts, pistachios, and almonds—three different nuts that are high in protein and fiber. These have numerous health benefits, such as:
They lower cholesterol
Hazelnuts are high in magnesium and Vitamins B and E, which reduce the risk of cancer 
They contain antioxidants that improve digestion and skin
The Pineapple Hazelnut is also one of our most delicious desserts, as this customer noted: 

Testimonial from Paula Baroni
Vegan Boule Pistachio
The Boule Pistachio is found in our vegan packages and is a favorite for anyone who's tried it. It's melty, sweet, and round in shape.
Boule Pistachios—also referred to as Boules—are made from a mixture of almonds and pistachios, which are packed together into a ball-shaped paste. Hazelnuts are then chopped, ground, and rolled onto the ball-shaped paste.
All other ingredients used are vegan, from the wheat flour to the olive oil used in the recipe. For an even sweeter taste, chocolate and sugar are added to create this delectable snack.
Overall, boules are mouthwatering, fully vegan, and make great gifts for men who've embraced their sweet tooth.
Make Your Gift Unforgettable!
Our perfect desserts can be made even better with a simple heartfelt message to the special man in your life. Whether it's a simple "I love you" message or a long, earnest message to him, we've got you covered.
We create boxes with custom messages so you can really show your loved ones how you feel. Simply contact us and make a custom request, and we'll deliver it to you in perfect condition.