Ramadan is a time for fasting, devotion, and prayer for all those taking part in the Holy Month of the Quran.
It's also a cherished time for delicious homemade family feasts and distinctive Middle Eastern sweets after sunset.
Nostalgic aromas like coconut and anise fill the house each day as you prepare a quintessential meal to celebrate Ramadan with your family.
Each mysterious and carefully selected ingredient fuels the aromatic scent of Middle Eastern food.
At Layla's Delicacies, we understand the importance of the perfect dinner and dessert for your family each night of Ramadan and Eid al-Fitr celebrations.
Therefore, we pride ourselves on using only the finest quality ingredients to ensure each Middle Eastern dessert you serve tastes homemade with love.
What Makes Layla's Delicacies Special?

Vegan Box, 22 pc.
Our family arrived in America with an insatiable longing for true Arabic, Lebanese, and Greek-inspired Tunisian sweets.
When we couldn't find the authentic taste we craved, we created our own Middle Eastern cake, baklava, and dessert recipes to enjoy after dinner.
Inspired by an array of Mediterranean cultures — superb ingredients balance each perfect bite of a Middle Eastern dessert — especially if you want to offer the sweets as a Ramadan- or Eid al-Fitr gift to family and friends.
Our ingredients are hand-picked by our team of artisan pastry chefs with decades of traditional training in Mediterranean cuisine. They personally select each nut they use.
Beauty is in the beholder's eye, we know.
One glance at the mastery of our artisans' creations will leave you utterly satisfied and ready to order the next batch of sweets from Layla's Delicacies.
7 Ingredients That Make Layla's Middle Eastern Sweets Unique

Vegan Box, 22 pc.
Our customers go nutty for our scrumptious bite-size treats.
Imagine taking a bite of your favorite baklava, knowing an artisan pastry chef hand-selected each one of the pistachios, hazelnuts, and ground almonds.
There are certain ingredients in Middle Eastern food that give it a distinct taste of home.
Our cakes and other sweets are no different, and we handpick only the finest and healthiest ingredients for each dessert.
Our treats have 70% nuts and that's an excellent health benefit to you as they are rich in unsaturated fatty acids and potassium.
"Both have antioxidant and anti-inflammatory traits. They can lower your chances for cardiovascular disease. Pistachios are bursting with the fiber, minerals, and unsaturated fat that can help keep your blood sugar, blood pressure, and cholesterol in check." -WebMD
7 secret ingredients that make Middle Eastern treats unique and healthy:
Healthy Nuts: Pistachios, Almonds, Pine-Nuts, and Hazelnuts
Coconut Milk: It's much healthier, and the coconut adds a distinct Middle Eastern aroma to our treats.
Extra Virgin Olive Oil: Extra virgin olive oil holds many health benefits when used in your daily diet.
Cardamom: It's often used in traditional dessert recipes such as sweet cardamom rice, and holds countless health benefits.
Sesame Seeds: They are the smallest of the nutty treasures you'll find in most Middle Eastern food and treats at Layla's Delicacies.
Rose Water: Rose water adds an exotic aroma to Middle Eastern cuisine and adds plenty of health benefits to your diet.
Almond Flour: It's the perfect ingredient for a healthier and gluten-free diet. Middle Eastern cuisine gives you the opportunity to enjoy your cake without a crumb of guilt.
Middle Eastern Infused Sweets at Layla's for Eid al-Fitr

Vegan Box, 22 pc
We love creating Middle Eastern desserts with a modern twist.
You'll get a variety of unique culinary experiences like Bjewia Pistachio topped with dried rose petals or the Almond Boat filled with caramelized chocolate.
Our Baklava Pistachio is a firm favorite amongst regular customers.
We always keep our treats balanced and not too sweet by including more nuts (70%) so you can enjoy more of the natural flavors while getting a good dose of fibers and protein.
Traditional Middle Eastern Treats

Sharing Tunisian Sweets with The World
Our Gift Box is a sublime gift to thank your family for their love and support each night after dinner.
You can spoil each one with their own Discovery Box for Eid al-Fitr. It's the perfect celebration gift at the end of Ramadan and holds four of our traditional Middle Eastern treats.
Middle Eastern Ingredients in Baklava Pistachio

Baklava Pistachio
Our unique Baklava Pistachio gives you layered pistachios and ground almond nuts lovingly wrapped in honey-drenched phyllo.
It's pure delight to bite through the crunchy layers as it melts in your mouth.
"Amazing: I kept seeing the ads for these treats on Facebook and decided, "Why not?" So I ordered the Discovery Box. They individually wrapped each treat. Each treat has a beautiful shape. Each treat is a flavor sensation." Tamara Ashley.
Middle Eastern Ingredients in our Almond Finger

Almond Finger
The Almond Finger originated in Morocco but also became a Tunisian tradition.
A blend of almonds and hazelnuts rolled in crispy brik phyllo sheets, the Almond Finger is usually a "morning pastry", and its combination of nutty and sweet flavors make it pair perfectly with coffee.
Samsa Pistachio's Middle Eastern and Crunchy Ingredients

Samsa Pistachio
Samsa is a very popular Middle Eastern dessert in North Africa.
These triangle-shaped little gems have a crispy outer layer made of thin brik phyllo sheets and a moist filling made of a mix of crunchy almonds and hazelnuts.
We sprinkle pistachio on top for a delightful sensory experience.
Appreciation Boxes Full of Trendy Middle Eastern Treats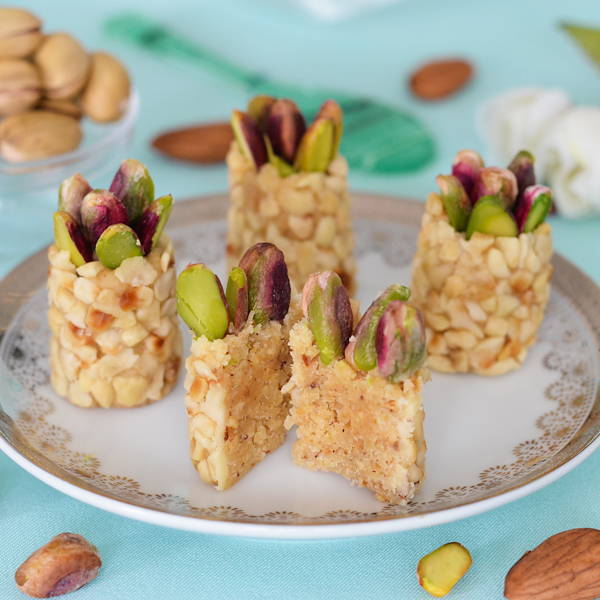 Vegan Box, 22 pc.
We delicately crowned the chopped almond and hazelnut wheels with pistachios in one of our delicious modern Middle Eastern desserts.
If you have trendy teenagers at home that thrive on modern food, consider ordering our Crunched Pistachio enclosed in almond paste.
It looks like a modern take of the Middle East meets sushi and is a culinary delight. You'll find this delectable little treat in any of our Appreciation Boxes. 

Appreciation Box, 9 pc.
How to Order?
It's difficult finding the perfect ingredients when baking traditional Middle Eastern food and desserts for Ramadan or Eid al-Fitr gifts in the US.
Why not order the best traditional Middle Eastern sweets from Layla's and thank your family with a traditional Arabic dessert for Ramadan and Eid al-Fitr?
You can order perfectly packaged and delicious gift boxes online.
It's a mouth-watering gift to select for your loved ones — homemade with care and perfectly packed, sealed, and delivered to your doorstep. You can send Layla's gift boxes to loved ones anywhere in the US or the rest of the world.
The Last Crumb

Source: Layla's Delicacies Facebook page
If your mouth is watering as you're reading about the exotic Middle Eastern ingredients in our delicacies — we're ready and waiting for your order.
You can spoil your entire family during Ramadan and Eid al-Fitr celebrations with a truly unique and delicious Arabic treat.
Order Gift boxes now and see the delight on your family's faces as they unwrap Layla's Delicacies' exquisite Middle Eastern treats.