Close your eyes for a moment. Imagine picking a random piece of pastry from a box. From the moment you bite it, you can hear the crunch of the dough.
The next feeling you get is a burst of nutty freshness with a subtle hint of sweetness.
And that's just the baklava.
Now, let's come back to reality, where you're wondering how and where you can get the ideal baklava experience.
If you've typed, "where can I get the best baklava near me" plenty of times into search engines and you still don't have an answer, then welcome to Layla's Delicacies. 
Why Should I Order Online?
Most major cities in the United States are a cultural melting pot. It's evident in the number of food joints that dot every street. Therefore, you're likely to find a store or a restaurant that promises the full Middle Eastern food experience.
However, you're also likely to miss hidden gems.

Baklava Pistachio
Layla's Delicacies doesn't just promise the Turkish food experience. We put 101% into our pastry to make sure every bite you take feels like a trip across the Mediterranean.
Ordering from Layla's Delicacies online has its upsides:
It's super convenient
You can see previous customer reviews
You can make an order any time
You'll get the best customer service
5-star pastries and service!

"Missing our Tunisian patisserie in France, we found your shop online. Thanks to Layla's Delicacies, our teatime is tops.

Delicious!!"

                        Janice-Marie (Indianapolis, US)
Discover Stand-Out Middle Eastern Pastry
We exist to serve you exceptional, mouthwatering pastry. When you want to order from Layla's, wherever you are, you can browse through our selection to discover a treasure trove of masterfully crafted Tunisian originals.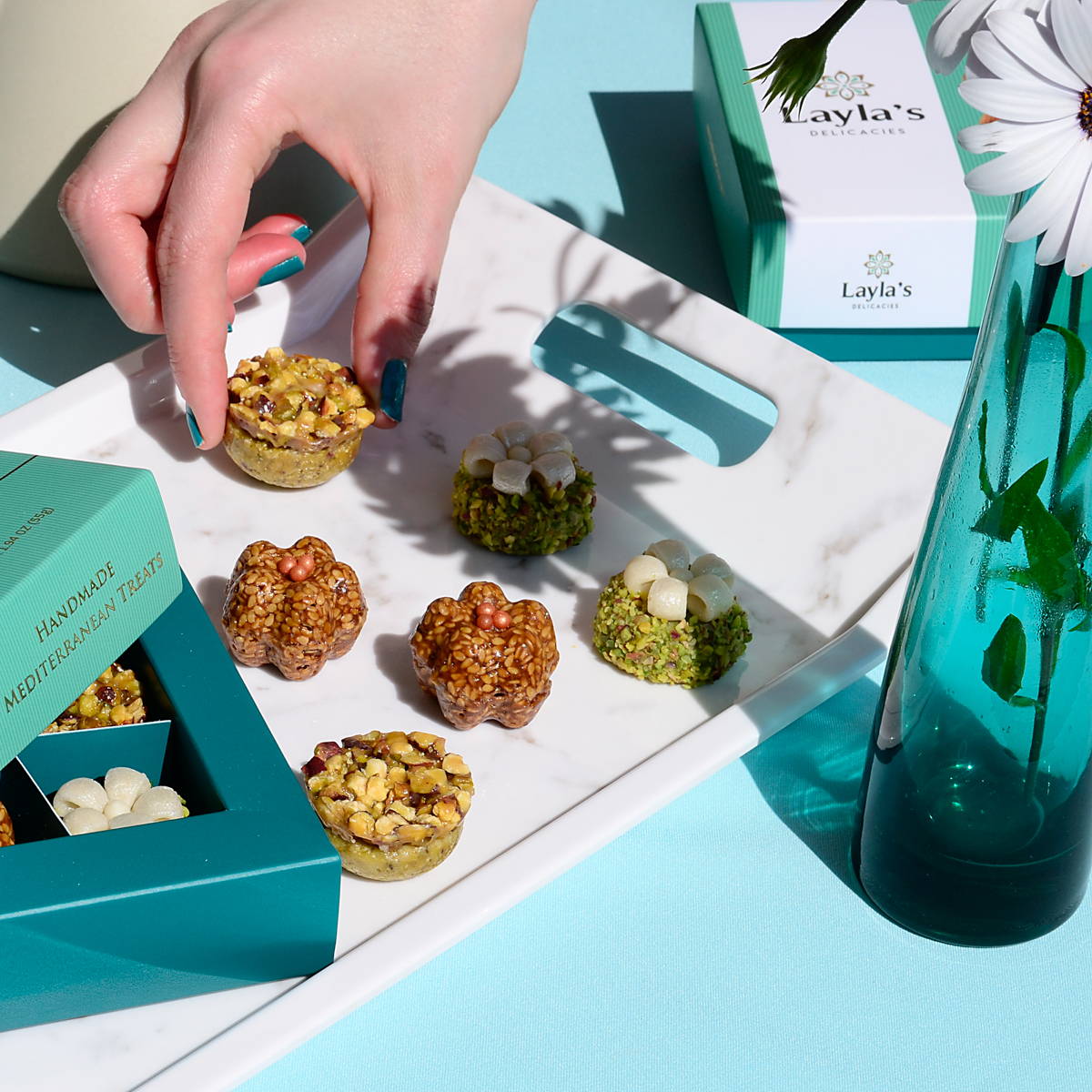 Authentic Handmade Deliciousness
Imagine not having the pressure to quickly pick out pastry because there's a queue behind you. You can take your time loading your cart with our baklava and other pastries from our wide range of delicious Tunisian treats
These are some of the delicious delights you'll get when you order online:
Kaak Warka, a Tunisian staple during celebrations
Bjewia Pistachio sprinkled with dried rose petals
Almond boats topped with caramel chocolate
Gluten-free Yasmina 
Fast Countrywide Delivery
Doesn't it just grind your gears, having to wait in line for your order for too long? Well, not at Layla's. Once you order online, you can get your baklava delivered in as little as one day (if you're closer to our New Jersey location).
However, our prompt delivery policy extends to our long-distance and international clients too. We'll give you a timeline for when you can expect delivery. Once you place your order, we'll keep you updated with a tracking number and clear communication on the expected delivery date. 

Appreciation Box, 23 pc.
Whether you're on 1320 19th Street in California or Dupont Circle, Washington, you can bet our pastry will reach you, smelling and tasting like it's fresh out of the oven.
You can take Kontesa's word for it. 
Layla-licious

"Excellent Service- magnificent delicacies... and deliciously fresh....all who have received Layla's loves them. Order now you will be delighted 😀"

Kontesa
We'll Take Care Of Your Large Orders
We have one commitment to you: bringing you fresh pastry no matter the quantity. When you order online from us, we assemble the finest Mediterranean ingredients and masterfully craft the perfect pastries. 

Appreciation Box, 46 pc.
Baklava is the perfect closer to a big meal. It's a celebratory pastry for momentous events such as Eid al-Fitr and Ramadan, so you'll need a big batch. Once you order, we create the time to lay every phyllo sheet, crunch all the nuts to the perfect coarseness, and splash just the right amount of rose water on your baklava.
The result? Wave after wave of balance, exotic flavors, and baking precision you can only get from an authentic Tunisian patisserie. 
We'll Customize Your Package
We know you put a lot of thought and effort into appreciating people dear to you. To that end, Layla's Delicacies makes sure every order is done right. If you want to create the Turkish or Greek experience for a friend in Washington — or wherever — count on us.
All you have to do is give us the details, and we guarantee they'll feel the warmth of your friendly gesture. We show it in everything from the package sashes to the handling of your order.
Our boxes are wonderfully tiered. The boxes blossom out into sections layered on top of each other when you open the package.

Appreciation Box, 46 pc.
This packaging is great if you're gifting people that have different tastes. From the layering of the package, each treat preserves its intended taste. After your meal, any pastry you have as dessert from this package feels like a culinary trip. 
We'll Handle Your Corporate Gifting.
Our family-owned bakery can handle small individual orders and recurrent corporate orders. Are you celebrating a workplace milestone? Put a Turkish twist to it and order baklava online. The best thing about it is, our communication is quick and friendly.
We have an entire department dedicated to corporate online orders. We'll put our best to task to help you come up with the best baklava order in line with your brand.
That's not all. We add ribbons, personal logos, and sleeves to make sure the package speaks for you.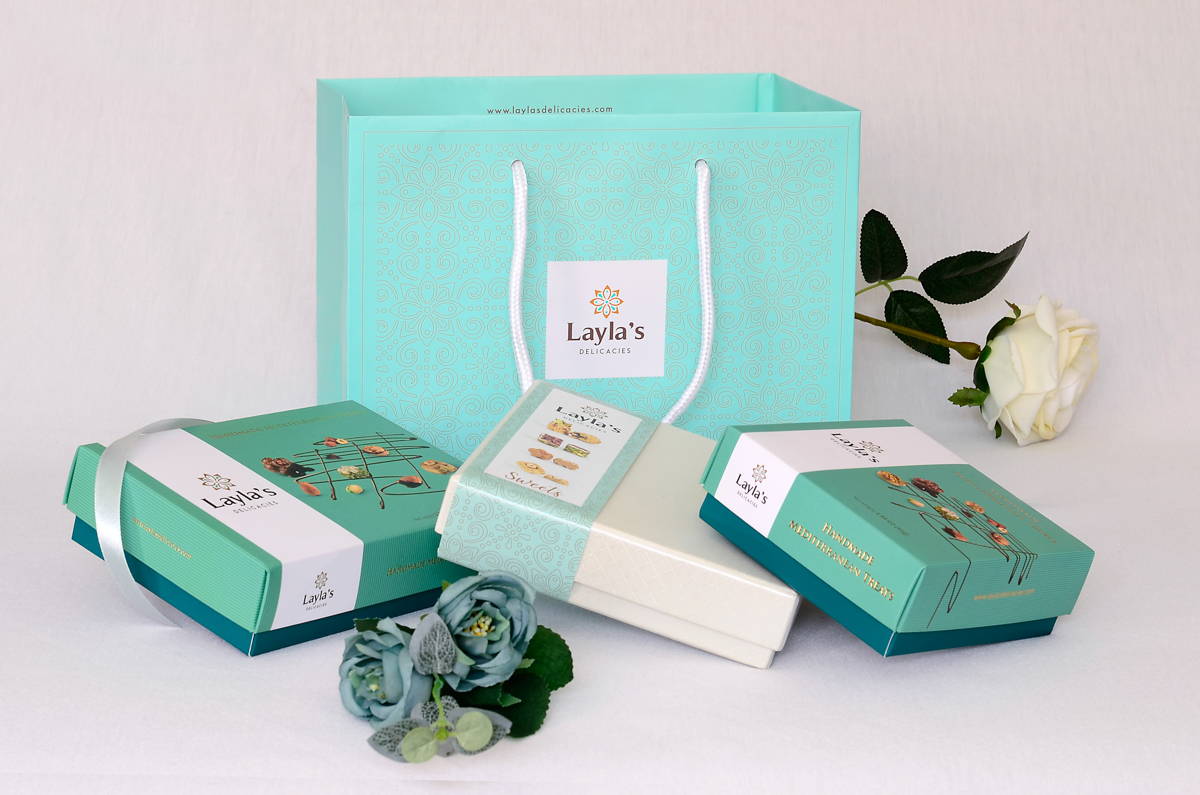 3 Easy Steps to Your Amazing Business Gifts
Where Can I Buy Good Baklava Near Me?
With such a buzzing food scene in the US,  you can find baklava in a lot of pastry shops and restaurants that serve Middle Eastern delicacies such as pita bread and hummus. 

Ramadan Limited Edition
However, getting good baklava near you might be a tall order.
Hop online with your mobile device or computer from anywhere, and bam — top-shelf Turkish baklava delivered right where you are. 
Who Makes the Best Baklava?
Baklava has crossed oceans from its Middle Eastern birthplace and found homes in places like Layla's Delicacies in New Jersey. All this while, every culture it has touched has laid claim to the title of the best baklava.
A Greek chef will say their phyllo is the thinnest, so they're the best. A Lebanese chef will say their orange blossom water and walnut pairing is exceptional.
However, history puts Turkey at the heart of this sweet dessert. The Ottoman Empire merged different aspects of the baklava recipe to come up with crispy, buttered, sweet, and nutty baklava. 
Belinda Urcia (Los Angeles, US)

Perfection

"I don't have to go back to Istanbul to have the perfect baklava!"

Appreciation Box, 14 pc.
From our humble New Jersey spot, we like to believe our baklava embodies all the things you love about Tunisian pastry. The flavor blends, the delivery timing, and the packaging make us the best bet for authentic baklava. 
Where Do You Buy Baklava?
Bakeries, restaurants, and food joints that specialize in Mediterranean, Greek, or Middle Eastern cuisines might have baklava. Even bigger retail outlets such as Costco are hopping on the baklava bandwagon, too.
But walk-in bakeries that offer baklava might be a hit or miss. You never know what you're going to get when you order in person. Ordering online from patisseries such as Layla's brings you closer to getting the best baklava you will ever sink your teeth into.
Ordering baklava pays off.
You get swift service, exceptional food, and above par packaging. So take the leap and go to Layla's Delicacies. Order today and treat your taste buds to Tunisian mastery.

Featured Image from: Pixabay by Engin_Akyurt